Tetrominator
Statistics
Type:
Semiautomatic
Quality:
Magazine Size:
13
Max Ammo:
301
Reload Time:
1.5s
DPS:

24.8

Damage:
4
6 (explosions)
8 (line piece)
Fire Rate:
0.30
Shot Speed:
16
Range:
30
Force:
6
Spread:
0
Class:
SILLY
Sell Creep Price:
30
Unlock Method:
Purchase from Doug for 28
Introduced in:
Ammonomicon Entry
LINE PIECE!
The Tetrominator shoots every possible configuration of four bullets.

Strangely, the "line" configuration seems rarer than others.
Tetrominator is a gun that fires random Tetrominos that latch onto enemies. When an enemy is hit by a line piece Tetromino, the line piece will explode: the more Tetrominos are stuck on the enemy at this point, the more damage it deals.
Notes
[
]
Circle of Bricks

- If the player also has the Brick Breaker, both guns are dual-wielded.

Tile Match

- If the player also has any non-glass Guon Stone, whenever the player shoots, the Guon Stone will occasionally shoot a Tetromino corresponding to the type of Guon Stone.
Items that make you shoot multiple bullets at a time, such as Helix Bullets or Scattershot, make you shoot different pieces, increasing the chance to get a line piece.
Trivia
[
]
This gun is a reference to Tetris.

The description is a reference to jokes about the line piece not appearing when needed.
The sprite is made of Tetrominoes assembled in a gun shape.
"LINE PIECE!" is a possible reference to The Tetris God, a skit from CollegeHumor.
Its magazine size and max ammo may reference 103/301 well patterns, the likes of which are used in competitive Tetris play .

The line piece is, as the gun's Ammonomicon entry states, rarer than the others.
This gun was formerly cut content from the alpha.
The Tetrominator acts COMPLETELY different in older versions if hacked into a players inventory. Source: https://www.youtube.com/watch?v=3_z187hgmHo
Gallery
[
]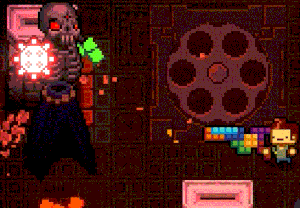 See also
[
]